"We are committed to building homes of the highest quality, excelling beyond the accepted industry standard"
Each RPH home is built on a solid foundation on integrity, dedication, and excellence. We take great pride in providing homes of quality and value that not only meet, but exceed the expectations of our customers, making for a memorable home buying experience.
Our vision is to be recognized in London as a knowledgeable and experienced home builder. We combine the benefits of quality craftsmanship with unparalleled personal service to create a highly professional and satisfying new home experience. Each of our homes combines the most innovative designs with meticulous attention to detail. The result is a home that delivers the ultimate in comfort and livability; a personally rewarding investment that you will be able to enjoy for a lifetime.

Eco Friendly
---
We are conscious of the environment as we re-cycle our unwanted construction material and use eco friendly materials and energy star products. Here are some of the materials built into every home.
Low-E Argon Vinyl Windows
---
Windows can be responsible for up to 25% of a home's heat loss during the winter and heat gain in the summer. The Low-E (Emissivity) windows we include in our homes feature argon glass filled airspace, multiple glazing, exceptional weather seals, and patented Warm Edge insulated spacer bars around the perimeter that minimize drafts, reduces condensation, protects furnishings against UV rays, and blocks unwanted outside noise pollution.
Upgraded Insulation
---
From the basement to the attic, Royal Premier Home has taken the necessary steps to build your family a resilient home that will protect against the elements. Exterior insulated sheathing and superior air sealing details decrease drafts and regulate temperature inside your home, keeping it cooler in the summer and warmer in the winter. The durable walls and building envelope also ensure each home is built to control moisture and contaminants, further improving indoor air quality.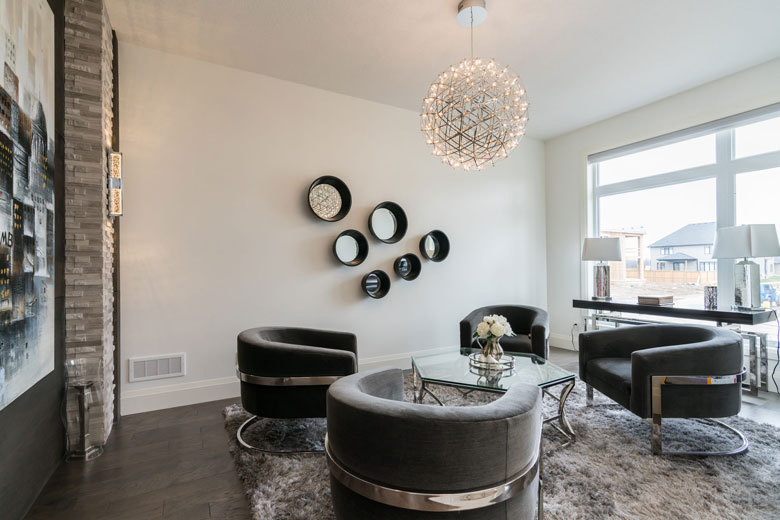 HRV & High Performance Ducts
---
Studies show that poor indoor air quality can cause health problems such as headaches and fatigue. Your Royal Premier home is build with your health and comfort in mind. The Heat Recovery Ventilator (HRV) removes stale air, provides fresh air ventilation, and improves air quality for your family. The HRV can also work with the high performance duct system to regulate moisture levels and air temperatures throughout your home. This particular duct system is especially quiet and significantly more energy efficient than plain sheet metal ducts.
Cent-A-Meter & Drain Water Heat Recovery
---
Take control of your home and savings! A programmable thermostat and Cent-A-Meter help to efficiently manage your operating costs. The Cent-A-Meter Electricity Monitor tracks greenhouse gas emissions and electricity usage, helping families to reduce costs by as much as 20%. Another savings tool is the Drain Water Heat Recovery System (DWHR) which recovers up to 80% of the hot water energy literally lost "down the drain". That thermal energy is then recycled to save you up to 40% more on heating costs.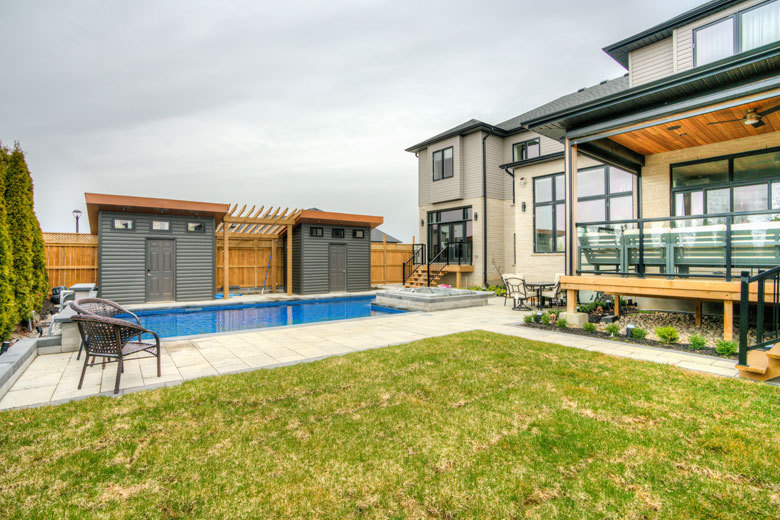 Standard Home Features
---
In standing by our promise for quality and outstanding workmanship, the following features come standard in ALL our homes. Regardless of what package you choose, these features make us on top of the leaders in standard options amongst local builders in Ontario.
Exterior Finishes
All exterior hardware pre-selected by Vendor
All services including sewer, gas, hydro and water connections
9 " thick concrete foundation walls
Double Car Garage w/factory prime sectional steel garage doors.
3" poured concrete basement floor with trowel finish
5"conceret porch reinforced with rebars.
Garage floor poured concrete 4" with broom finish
Weeping tile around basement footings and inside sump pump
Damproofing of all exterior walls below grade
Clay Brick on first floor as per Plan.
Vinyl insulated sliding windows (where shown)
Maintenance free aluminum/vinyl siding, eaves trough, soffit, fascia on second floor
25 Year asphalt shingles
Engineered roof trusses
2X10" floor system with plywood, nailed, glued, & screwed down.
2"X4" spruce stud for internal and external walls at 12" on centre
Steel insulated front and side doors
Brass finish deadbolt locks on front and rear doors
Caulking applied to all windows and frames
Screens on all operational windows
Fully sodded front, rear and side yards
Driveway to be paved after first full winter, or at Vendors discretion.
Interior Finishes
(a) Entry swing door will be thermal insulated steel including VINYL CLAD FRAMES and shall receive DEADBOLT for added security, with side light or transom option. (b) Where shown on plans, front entry systems are artist's illustrations and may vary from double entry door to single entry door with or without side lights and transoms.
1/2" drywall on walls and ceilings
Orange peal ceilings in all room with except in kitchen and bathrooms and closets.
Eggshell finish walls in Kitchen and bathrooms.
1/2" jamb on all closets
Colonial Doors throughout paint finish, Bi-fold closet doors
Polished brass hardware
White vinyl coated wire closet shelves
Wall to wall 36 oz. carpet as per builder samples
Electrical and plumbing outlets provided for basement laundry
Stairs, spindles, and railing painted where not carpeted
Kitchen cabinets as per plan as per builder sample Quality furniture finish cabinets with laminate countertops.
Dishwasher opening provided.
Two speed exhaust fans range hood vented outside
All interior hardware pre-selected by Vendor
Mirrors in all Bathrooms and Powder Rooms (or credit)
Tower Bars, Paper Holders in Bathrooms (or credit)
Interior walls painted Purchasers choice (two colors-trim and doors to be white)
Paint Grade handrails standard as per plan
Fireplace optional where plans illustrate
The following can be chosen from the Vendor's samples provided they have not yet been ordered or installed and the colours and materials are available:
Ceramic flooring in Kitchen and Bathrooms in a wide variety of colors
Quality finished Kitchen and Bathroom vanity cabinets with laminate countertops
Energy
All windows are Energy star RATED
Sliding insulated glass patio doors where shown
Metal clad insulated front (and door from house to garage, if applicable)
All windows and exterior door frames caulked
House fully insulated to Ontario Building Code Standards and beyond
Insulation on basement walls per Ontario Building Code
Electrical
100 Amp electrical service with Breaker Panel and copper wiring
Heavy duty outlet for electric Dryer
Heavy duty outlet for electric Stove
Smoke detectors on all levels & CO detectors on Bedroom Level
Electric doorbell
All underground utilities
Three(3) pre-selected telephone jack locations
Two (2) pre-selected cable outlet locations
Ceiling lights in all Bedrooms
Mechanical
Forced Air gas heating
50 U.S. gal. Rented high efficiency hot water unit installed
Taps for automatic washer
Exhaust Hood Fan combo in Kitchen vented to outside
Single laundry tub
Hydro service to be located as per Public Utilities Commission specifications
One rear exterior hose water tap, One Garage water tap, both with interior shut off
Double Stainless steel sinks.
Bathroom fixtures are white
Waterline to be Wirsbo plastic tubing
Sump pump
3 piece rough-in (basement)
Want More Information?
Contact Our Sales Office